Dental Implants - Falls Church, VA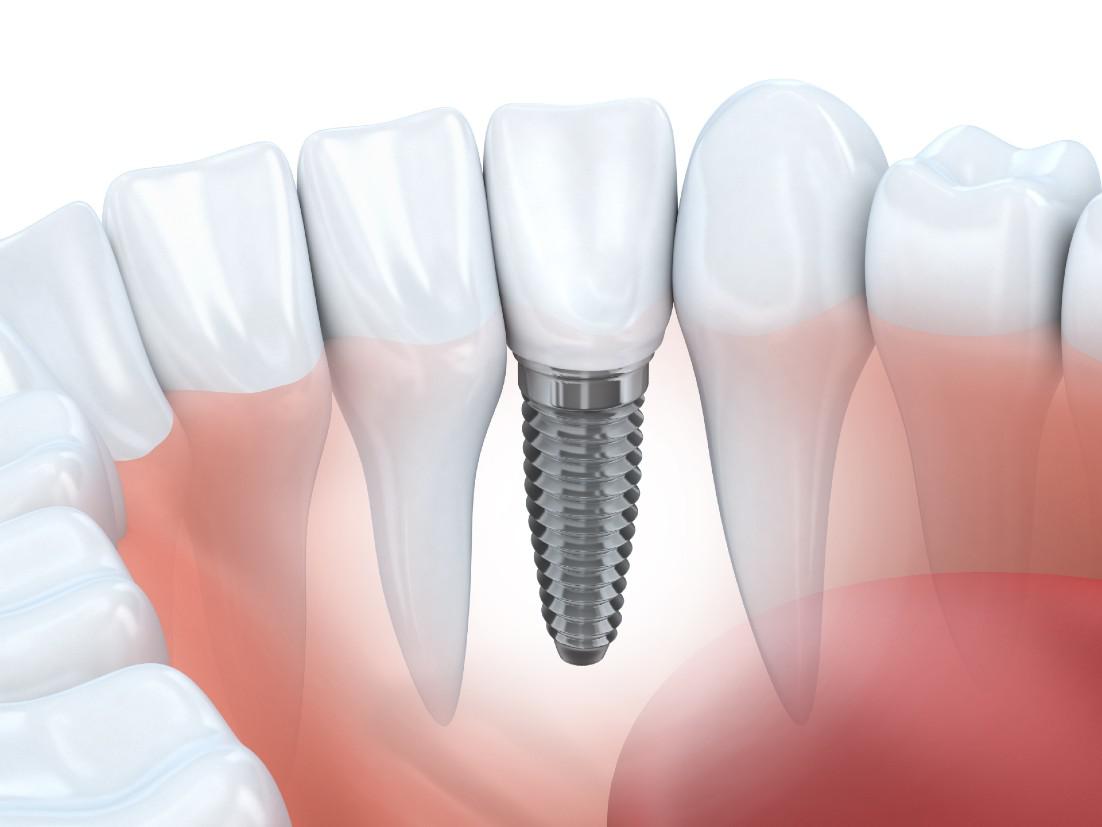 Are you tired of dealing with dentures sliding around in your mouth? Or maybe you want to install a dental bridge, but don't have any good candidates left as anchor teeth? Fear not! Our Falls Church dental implants are built to stand the test of time and provide your mouth with the structure and support it needs for everyday life.
Dental implants are an option to replace missing teeth and provide a fixed solution to removable dentures. Dental implants are natural-looking replacement teeth that are fixed in the jaw. Implant treatment provides an option to correct the most troublesome cases associated with missing teeth and ill-fitting dentures.
An artificial tooth root made of titanium, an implant is surgically placed into the jawbone to support tooth-replacement structures such as crowns, bridges and dentures. While the implant mimics the root of the tooth, the replacement structure looks and feels just like a natural tooth, providing patients with a permanent solution that replicates the fit and feel of natural teeth.
Benefits of Dental Implants
Dental implants have many benefits over other tooth-replacement methods.
Enhanced Esthetics
Implants are placed within the gums. The crowns that are attached to them emerge in a manner similar to a natural tooth. This offers a more realistic and natural look compared to other alternatives.
Reduction of Bone Loss
When a tooth is lost, the supporting bone structure gradually recedes over time. Dental implants integrate with the jawbone and stimulate its preservation, allowing the bone to stay healthy and intact while maintaining natural facial contours and appearance.
Preservation of Adjacent Teeth
Other methods like fixed bridges must be anchored to adjacent teeth, unnecessarily sacrificing their quality and health. Dental implants are independent and do not rely on the support of other teeth, thus providing the ability to preserve the good teeth.
Easier Eating
As the jawbone shrinks, chewing efficiency is reduced, making it difficult to eat certain foods. Dental implants can restore chewing efficiency comparable to that of natural teeth, allowing patients to eat their favorite foods with confidence and without discomfort.
Our Falls Church Dental Implant Procedure
All treatment begins with a thorough exam and consultation. Typically, the process can take from 3 to 6 months. In some cases, the process may take longer because additional treatments, such as bone grafting, may be required to build up the bone so it can support an implant. The procedure and time frame depends on several factors:
Dental health
Condition and quality of the jawbone
Number of teeth involved
Dental implant restorations usually take place over a few appointments and involve several steps:
The First Step
A dentist or oral surgeon will cut into the gum to expose the bone. One or more implants are precisely placed into the jawbone to mirror the location of the root of the missing natural tooth.
The Second Step
After appropriate healing has taken place to allow for the implant to fuse within the bone, impressions of the teeth and bite are taken to custom-fabricate a connector post or abutment, and crown.
The Final Step
At the final appointment, the oral surgeon reopens the gum to expose the implant. The abutment and crown are attached to the implant, completing the process.
Some patients may experience minor soreness after the dental implant procedure which can be treated with over the counter ibuprofen medication.
Dental Implant Results
Patients receive all the benefits of natural teeth with their dental implants. It is important to continue good oral hygiene with the implants to prevent bacteria buildup, which can cause gum disease or bone loss.
Contact Our Falls Church Implant Dentist
If you'd like to know more about dental implants, schedule an appointment with one of our dentists for an individual examination. When you come into our Falls Church office, we take your unique case and find the best solution possible.
Give us a call at (703) 533-7285 or schedule an appointment online today! Our goal is to help you achieve healthy and happy teeth that will last you a lifetime. We can help make your dream smile into a reality with our special offers.